As with any liquid asset, planning for future returns and costs is crucial to understanding the performance of the asset. Unique to forest investments is the fact that individual, living trees comprise the assets. The biological and market-driven value appreciation, and the costs associated with providing the biological inputs necessary to maintain a productive forest must be understood. A thorough understanding of field level data collection, statistical analysis, data interpretation and modeling is crucial for high-level analyses.
Management Planning
The most important aspect of management planning is that your goals are clearly communicated and understood by your SFC forestry consultants. Whether you are in the market for specific, quantitative evaluations or simply need input on managing for recreation and wildlife habitat, SFC is equipped to meet your needs.
Timber Inventory & Appraisal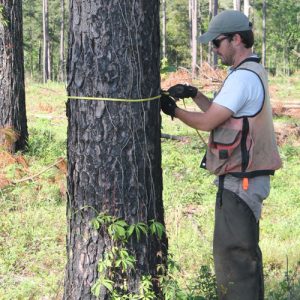 Accurate timber inventories are critical for forecasting cash flows, ROI, management costs, and other investment decisions. Documentation begins with "boots on the ground" data collection, also known as timber cruising. To meet benchmarks for statistical requirements, forestry consultants at SFC must have extensive knowledge and experience in volumetric equations and tables, use techniques for gathering individual tree attributes, and be adept at identifying accurate sampling locations. Thorough data collection facilitates the higher-level planning methodologies utilized for point-in-time value assessments and long-range planning.
Learn more about Geospatial Solutions
Budget Analysis, Growth and Yield, Harvest Scheduling
Our clients include public agencies, not-for-profits, sophisticated investors with tens or hundreds of thousands of acres, and even the smallest private non-industrial landowner with forty acres. Their interests and goals are varied and unique, but every client needs an economic analysis of their forest assets. Often, the forest must cash flow and support the overall investment objectives, pay for the ability to enhance the forest habitat, or pay to improve recreational opportunities. The preparation of annual budgets, projections of growth and yield, and harvest scheduling are important in supporting the client's understanding of how the forest will operate biologically and financially. Good decisions cannot be made in a vacuum, so a complete understanding of the performance capability of the forest is integral in forest planning.
These analyses are as varied as the clients we serve. Some take the form of annual inspections and management reviews, while the more sophisticated involve intensive inventory work, in-depth biometric calculations, projections, and quarterly reporting. No two forests are identical and no two clients are alike. While management objectives may be similar, strategies for accomplishing goals depend on the ability of the forester to properly plan activities based on predictions of biological growth, budgetary constraints, and market opportunities. Good data, good analyses, and good planning make for successful forest management.