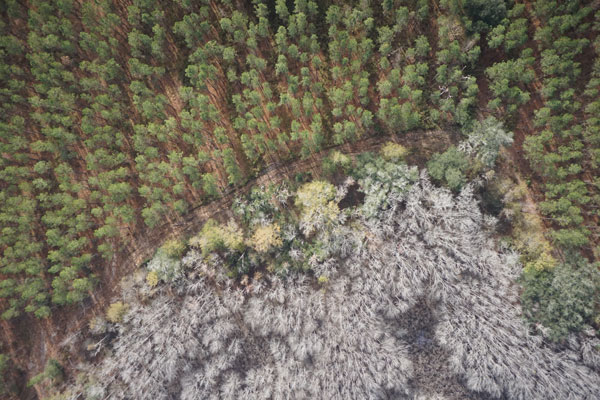 Forestry Geospatial Technology Solutions
SFC is a dedicated southeastern reseller for Lim Geomatics geospatial technology.  We use these proven technologies and Esri's ArcGIS in our daily forestry and logging operations and on client projects.
The technology world has changed radically in the past 10 years and its influenced how we work with information – you probably carry a smartphone everywhere you go.  Part of the power of smartphones are "apps" which are simple to use and rarely require any training. A question we often hear is: "how can I get an app that does everything I need"?    The answer is that there really isn't one app that does it all (nor should there be). If an app did it all, it probably wouldn't do any one thing well because apps by nature shouldn't be cluttered with too many buttons and data layers.  Apps are like shrink wrap around your data and workflows. If you know how your people work and the kinds of questions they ask of your data, you may be ready to implement an app strategy.
Natural Resource managers and foresters are charged with optimizing outcomes for high value land and timber assets. Many natural resource managers find themselves looking over a digital divide which they are uncertain how to cross - as they are continuously challenged with new information demands from employees and clients and realize that paper and spreadsheets are not the right tools. These new digital demands could be from younger workers which expect to access business systems l on their smart devices, or an incoming generation of landowners which expects regular digital updates for work related to their assets. SFC and its partners work with many industry partners to enable real time asset visibility and pervasive, any device access to schedules, activities and inventory. We understand that you may not have your own technologists onsite, and that your information and tools must be simple and easy if they're to be used by your staff. We can talk the language of natural resources with your team and put the technology to work in the background to help you bridge the divide and focus on what you do best.
OpTracker™ is a powerful, map based solution for logging and forestry site applicators. OpTracker™ includes a web application for owner/supervisors, and a mobile mapping app for equipment like site prep skidders, feller-bunchers or cut down machines.
The mobile app operates completely offline with maps of treatment or sale areas boundaries, streams and aerial imagery.
Machine operators have maps with real time GPS location on the stand as they navigate work a site while generating GPS tracks for analysis of where work has been done. Machine tracks are automatically analyzed by the web application to show completion by operator and date to create a real time view of progress as a percent of total area as well as machine productivity.
Completed area data supports contract requirements as either a treatment area shapefile or in a published map.
Automated, Map-Centric Cruising
Timber cruising (a type of forest sampling) is the cornerstone of forest management and a vital means for quantifying the structure and characteristics of forest assets for management decisions, timber sale valuation, appraisals and processes for forest modeling and projections. For us and others in the industry, the inventory process has been very laborious and error prone, involving the use of multiple software, complex workflows and little means of distributing real time data collection progress across project participants. The Prism inventory solution has addressed these, and other challenges such as usability and design, through a new solution which is built to function for the next decade and longer. Jamie Greene from SFC used early versions of Prism, stating that he "found it helpful to not have to switch back and forth between applications or hardware. You navigate to the plot and take the data right there in one app—it's so much easier and quicker than before."
See our full product description to learn more.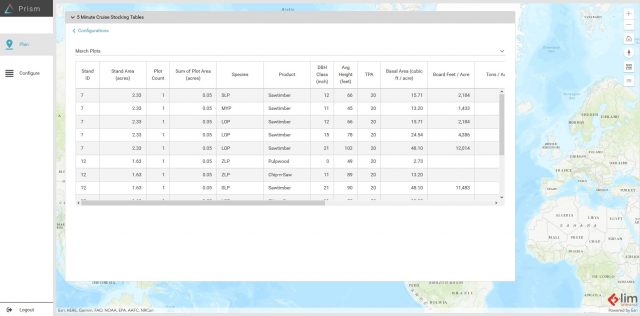 We run Esri web GIS for our own forestry consulting on 500k acres and for several other clients. We can provide you a secure, dedicated enterprise class web GIS at a reasonable cost. A central cloud based database means you can provide your teams with a real time Single Version of the Truth for forest assets. See teh same authoritative inventory and stand treatment history from anywhere work is being done. Update data in the field from your phone, and share and collaborate to save time and get more done. This solution provides a foundation for running custom apps like Prism (link to product page) – all using the same login and GIS backend powered by Esri.
There is a big shift in how forest inventory is being done around the world. For medium and large forest asset owners the rich datasets which result from a lidar inventory are a game changer: there's a number for basal area, volume and stocking for each pixel across a stand. While a lidar inventory does not completely replace ground sampling it can dramatically reduce the number of cruise plots installed while resulting in a dataset that characterizes every acre of forest in terms of structure, volume and stocking. One challenge that those trying to use lidar run into is turning these huge datasets into something ready to use. AFRIDS was developed to interrogate lidar big data through a rich, high performance web GIS application.
We work with our partners Lim Geomatics to capture ultra-high accuracy field data which to correlate to lidar and output a very accurate area based inventory for timberlands.  Lim Geomatics has the proven algorithms and big data delivery experience and SFC has the forestry and field experience to make for a successful project. A lidar inventory is most suitable for larger landholdings where economies of scale come to play.  Some of the benefits of lidar inventory are:
Dataset is continuous across a timberland where each pixel in the picture has a volume compared to traditional sample based inventory which is typically at a plot or stand level.
One also gets other data such as surface and elevation models useful for much more accurate extraction of road and stream features.
We design and host custom solutions for natural resources such as threatened and endangered species management including geospatial tracking, field maps and project invoicing. Our team provides expertise in forest inventory, timber sale and wood accounting. Please contact us to learn more about how we can help you with your challenges.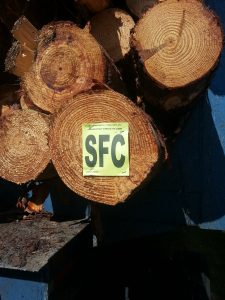 We know the timber sale business and forestry consulting well. We can help you use modern, IT compliant software to securely track and reconcile your wood deliveries. Your data will be secure and in a dedicated computing environment so that only your organization can access it.
Our team deploys and manages urban inventory field systems such as tablets, GPS and the specialized field and office software.  We take care of it all to ensure you get good data fast and save time on your field work. This service can be provided on a temporary or permanent basis, and be integrated with your own ArcGIS resources.   For example:
Host and run a full inventory solution along with field labor.
Host a hybrid solution which uses part of your infrastructure and software fed by our field applications.
Or, we can help you set up your infrastructure and field solutions using your in house ArcGIS resources.
Other services we provide to our clients:
Harvest Planning
Timber Cruising Technologies
Forest Land Cover Mapping
Geospatial and Data Services
Environmental and ecological project support.