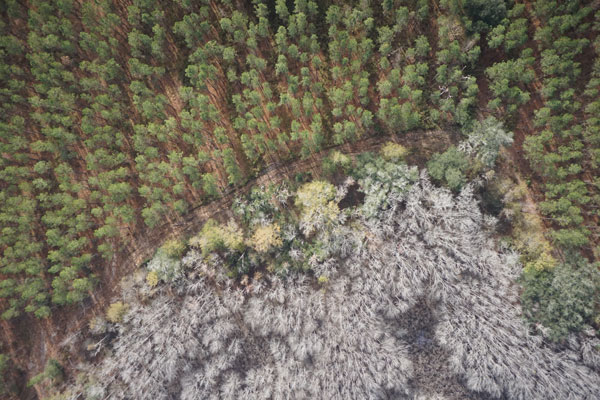 Forest Technology Solutions
SFC is a leading provider of web GIS and forestry technologies which simplify and unlock the value of information in forestry operations.    
Consumer technology has changed radically in the past 10 years.  The use of phones and tablets (consumer devices) created new expectations for ease of use and everywhere, real time access to content like maps, music, video and social media.
But what about business data? By and large, phones are being used to text or at best access business email.
Organizations are struggling to bring the full potential of consumer devices – and the cloud computing behind them – to daily operations. While it's common for foresters to use a slick hunting app or text colleagues, it's rare that team's devices can access (or update) authoritative business information like tracts, stand maps or treatment history.
As the only Cloud Native option in our industry, our proven strategies help forestry and natural resources organizations better function in the digital age so they can focus on their core business. We specialize in serving operations which lack internal resources to implement and manage technology. Follow the links below to see more.
Natural Resource managers and foresters specialize in optimizing outcomes on high value land and timber assets. Many natural resource managers find themselves looking over a digital divide which they are uncertain how to cross. The technology and information management practices of yesterday are not keeping pace with today's increasing information demands and pace of business.
Our popular Web GIS for Forestry offering allows forest asset managers to digitally transform operations. As a fully managed solution in the Azure cloud, organizations with few in house technical resources can leverage powerful functionality at a modest investment. This solution offers A Single Version of the Truth for forest assets in real time, anywhere work is being done.
Planet Labs imagery is a game changer for forestry. As a reseller and service provider, we make sure our clients can make the most of this imagery services streamed directly to Esri GIS on all acres and updated every day. Combined with a strategy for web GIS, the use of Planet labs transforms how forest operations leverage imagery – making imagery easier to use and manage, more available across the organization and quite often with an economical advantage to traditional imagery programs like drones and fixed wing aircraft.
Automated, Map-Centric Cruising
Prism digitally enables forestry and natural resources organizations to collect for asset data fast, in real time and with minimal technical skills. Read on to learn more about how Prism reduces the hidden costs and frustrations so common in the forest inventory business process.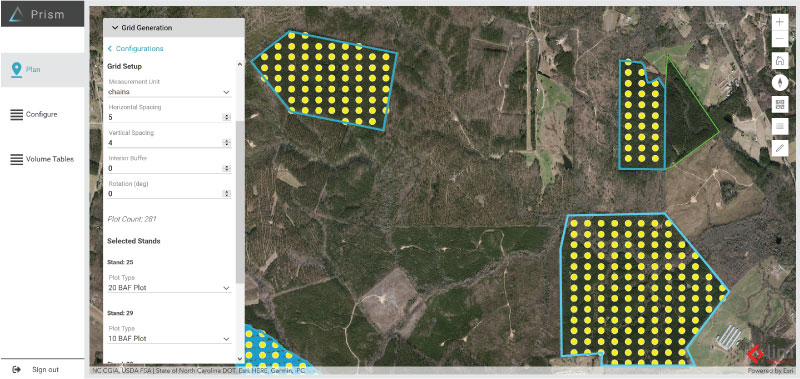 Welcome to a new era of forest inventory & asset management with highly-configurable and user-friendly software designed to future-proof your bottom line.

OpTracker™ is a powerful, map based solution for logging and forestry site applicators. OpTracker™ includes a web application for owner/supervisors, and a mobile mapping app for equipment like site prep skidders, feller-bunchers or cut down machines.
The mobile app operates completely offline with maps of treatment or sale areas boundaries, streams and aerial imagery.
Machine operators have maps with real time GPS location on the stand as they navigate work a site while generating GPS tracks for analysis of where work has been done. Machine tracks are automatically analyzed by the web application to show completion by operator and date to create a real time view of progress as a percent of total area as well as machine productivity.
Completed area data supports contract requirements as either a treatment area shapefile or in a published map.
There is a big shift in how forest inventory is being done around the world. For medium and large forest asset owners the rich datasets which result from a lidar inventory are a game changer: there's a number for basal area, volume and stocking for each pixel across a stand. While a lidar inventory does not completely replace ground sampling it can dramatically reduce the number of cruise plots installed while resulting in a dataset that characterizes every acre of forest in terms of structure, volume and stocking. One challenge that those trying to use lidar run into is turning these huge datasets into something ready to use. AFRIDS was developed to interrogate lidar big data through a rich, high performance web GIS application.
We work with our partners Lim Geomatics to capture ultra-high accuracy field data which to correlate to lidar and output a very accurate area based inventory for timberlands.  Lim Geomatics has the proven algorithms and big data delivery experience and SFC has the forestry and field experience to make for a successful project. A lidar inventory is most suitable for larger landholdings where economies of scale come to play.  Some of the benefits of lidar inventory are:
Dataset is continuous across a timberland where each pixel in the picture has a volume compared to traditional sample based inventory which is typically at a plot or stand level.
One also gets other data such as surface and elevation models useful for much more accurate extraction of road and stream features.
We know the timber sale business and forestry consulting well. We can help you use modern, IT compliant software to securely track and reconcile your wood deliveries. Your data will be secure and in a dedicated computing environment so that only your organization can access it.