WEA Presents at Georgia Landowner Academy Commencement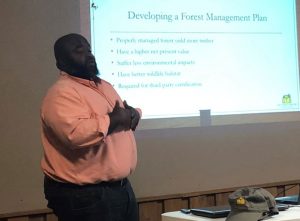 At the request of the Georgia Heirs Property Law Center, Wiregrass Ecological Associates (WEA) visited the Colquitt, Georgia community and spoke to the graduating class of a six-week workshop meant to educate landowners on a litany of land ownership issues. The Georgia Landowner Academy is a three-month program offered for landowners wanting to learn how to manage the business, agricultural, and natural resource responsibilities of land ownership. Forester Alex Harvey presented on behalf of WEA and Southern Forestry Consultants (SFC) to the program graduates on the topic of Preparing and Marketing Your Timber Sale. Mr. Harvey educated landowners on proper management their forestland, challenges to management, common mistakes to avoid, and helped connect those landowners with the resources imperative for their success.  He concluded his presentation with remarks on the role of forest management and land retention in building generational wealth and strengthening bonds within rural communities. Mr. Harvey earned a Bachelor's Degree in Forestry with an emphasis in Wildlife Management from Mississippi State University. Prior to joining WEA, he worked to as an advocate and resource for small, non-industrial private forest landowners in partnership with the U.S. Endowment for Forestry and Communities and the U.S. Department of Agriculture.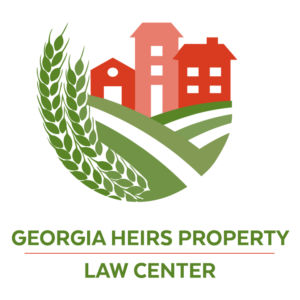 The Georgia Landowner Academy is sponsored by Georgia Outreach for Landowner Development ("GOLD") and its partners, Georgia Heirs Property Law Center, Golden Triangle Resource Conservation and Development Council of Southwest Georgia, Fort Valley State University, Georgia Forestry Commission, University of Georgia ("UGA") Extension Program, UGA D. B. Warnell School of Forestry and Natural Resources, Sustainable Forestry Initiative and the following USDA agencies: Farm Service Agency, Rural Development, National Agricultural Statistics Service, and the Georgia office of Natural Resources Conservation Service (NRCS). 
###
The Georgia Heirs Property Law Center (The Center) is a not-for-profit law firm dedicated to increasing generational wealth, social justice, and community stability by securing and preserving property rights of low and moderate income Georgians. The Center's services include title clearing, will creation, estate planning, and connecting clients with programs to increase the value of their land and homes. Staff travel throughout the state from offices in Atlanta, Athens, and Fitzgerald.  – https://www.gaheirsproperty.org/