The Web GIS for Forestry Solution Helps Meet Today's Information Demands Through a Single Version of the Truth for Forest Assets.
Forestry Operational Challenges:
Disparate ('point solutions') cannot function as single integrated whole, creating information security risks and cumbersome information workloads.
Staff don't use difficult to use systems, causing vital data on assets from being entered and reported.
Maintaining and operating older legacy systems impacts other duties.
Disparate technologies which share no common architectural making them hard to integrate and manage.
Point solutions from different vendors for inventory, forest management or land records increases the attack surface area for hackers to target.
The Digital Age is Here, are You Prepared?
Are you handing the same information multiple times in different systems and need a better way?
Is your business experiencing increasing demand for information?
Is it taking too long to get answers and generate information based deliverables?
Is there a feeling that important work is slipping through the cracks?
Does your organization have technical staff near retirement with no one to replace them?
Is there a need to do more without having to hire?
Don't Know Where to Start, Reach out!
Give your Operations an Edge:
A Single Version of the Truth for Forest Assets.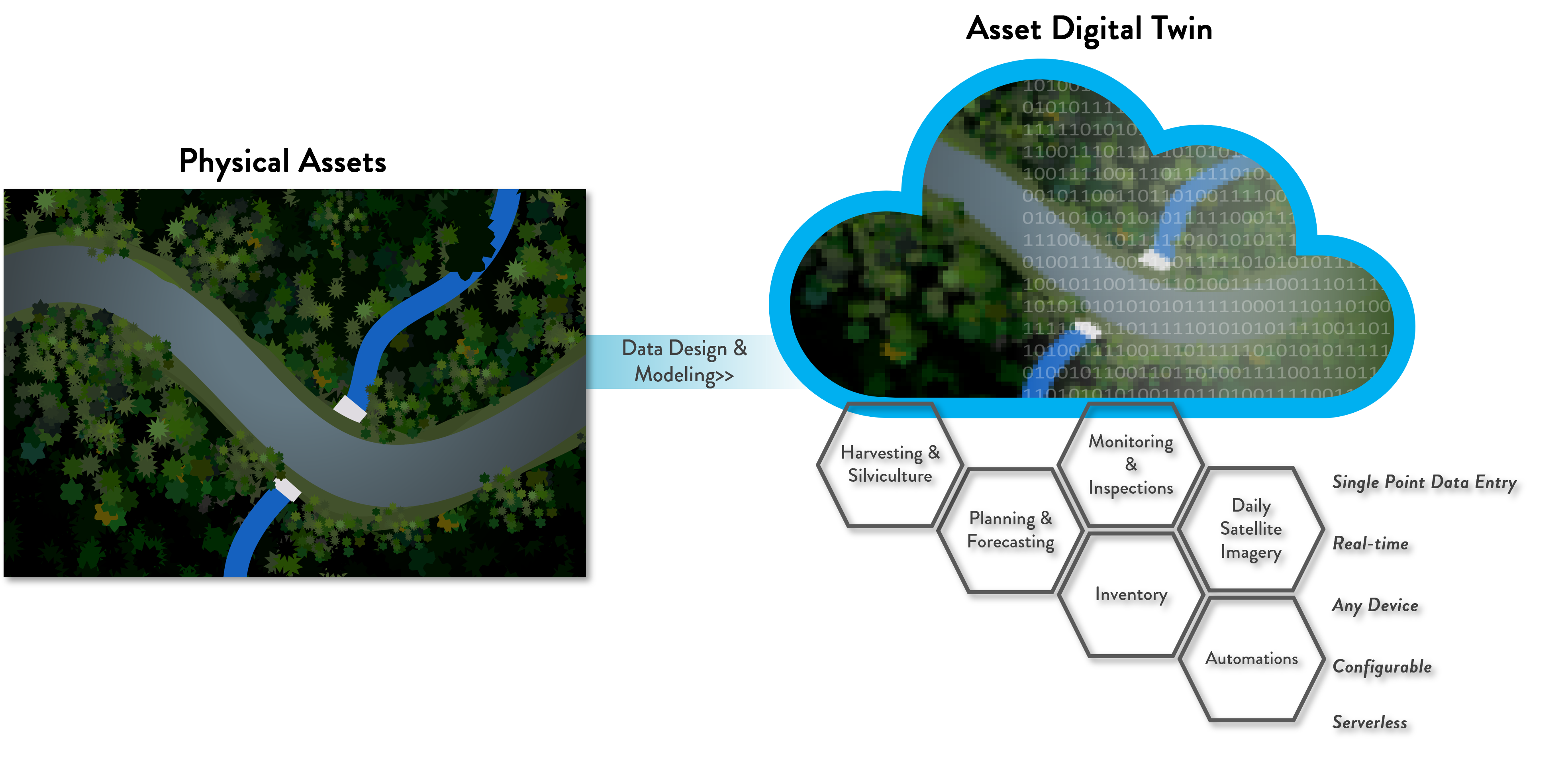 Web GIS Solution in Plain Language:
"Single Point Data Entry" allowing data to be entered once and turned into usable information for everyone in real time.
Mobile maps, imagery and offline editing.
End to end (field to office and back) workflows for business areas such as inventory and sustainability monitoring.
Map, report and analyze expenses, revenue, plans, cutting activity and inventory in real time from anywhere.
Inventory and imagery are integrated. See Planet Labs imagery and Prism which are components of a web GIS strategy.
Why is the Web GIS solution different from competing products?
Automated workloads reduce error, speed up critical operations and eliminate double entry and file handling typical of legacy technologies.
All components are maintained in global computing platforms to be up to date, operate disruption and function for the long term.
Minimal dependencies on local hardware like PCs allows for easier updates, troubleshooting and maintenance.
Depth of data governance and standards across architecture components and data assets.
Rather than one way in and out for data, here one version of your data is open to all device types, the web and desktop.
On a per acre basis more economical than custom software and other solutions on the market.
Rather than a one size fits all application, configure your own apps, maps and reports around a Single Version of the Truth.
Land Records:
Tract documents such as deeds searchable by tract names and in web apps.
Access to up to date maps and land data by non-GIS users.
Streamline county tax payment processes.
Isolate mistakes tax bill to save tax expenses.
Friction-free Information Delivery for Everyone:
Eliminate handling the same information in multiple systems.
Science-based inventory methods which are defensible, repeatable and centrally managed.
Reduction of lost time from one up to date version of tracts, stands, inventory and treatments accessible from wherever work is being done.
More consistent, defensible answers to operational questions which come up every day.
Automatted answers for each level of the organization without having to wait for an analyst.
High Performance Inventory with Prism Integration:
Simplify and eliminate the need to shuffle around shapefiles between systems. Prism creates cruise grids in up to date stands in the Web GIS: recently planted (survival cruise), thinned (post thin cruise) or on deck for a harvest (pre-sale cruise).
More accurate timber estimations by implementing improvements from field methods to equations.
A single source for inventory program methods: cruise types, data collection methods and product specifications.
Flexibility to support all cruise types on owned assets, stumpage, or acquisitions from a single solution.

Web GIS for Forestry Data Sheet

Overview of what's included:

Short video of Planet Labs Imagery for harvest monitoring and fast mobile access:

Short video of Planet Labs Imagery in ArcGIS Pro using tracts in the Web GIS for Forestry: