The Web GIS for Forestry Solution helps organizations meet increasing information demands through a Single Version of the Truth forest assets.
Reliable, up to date information on forest assets is essential for businesses today:
What if everyone on your team was looking at the same tracts, stands inventory and treatments wherever they were working?
Would it save time if your team had real time, consistent answers to operational questions from any device and anywhere?
Does real time, anywhere access to what happened on a stand make a difference in the speed and accuracy of decisions?
Do want confidence that the information you're making decisions with is up to date and relevant?
The Web GIS for Forestry solution solves common challenges:
A single version of the truth for forest assets, accessible by all, anywhere, on any device and in real time.
Access of up to date maps, stands, and treatment history in smart device apps and a web browser.
Reduce and even eliminate information delays arising from technically complex – and disparate – systems.
A foundation for innovations like Planet Labs imagery, Op Tracker or Prism.
Get results with the Web GIS for Forestry:
Project harvest volumes to estimate revenue and do logistics and contract planning.
Automate and integrate to save staff time and get more consistent answers to daily business questions.
See real time standing inventory through automated depletion from settlements or scale system as harvests removals occur.
Plan harvesting and silviculture by establishing criteria, identifying candidates, projecting and budgeting – all in one place the whole organization can access.
Automate mapping to simplify and shorten production of maps for contracts, cutting releases or for contractors.
The digital age is here, are you ready?
As the only Cloud Native option available, Web GIS for Forestry brings the power of real time cloud computing to operations.
Eliminate confusion over which information is correct or up to date.
Continuous updates baked in to function over the long term without disruption or risk of obsolescence .
Secure and backed data to protect your operations and exceed IT standards.
Benefit from the modern technology you use every day at home without having to get into the complexity of technology or having servers in your offices.
See what's possible with The Web GIS for Forestry solution: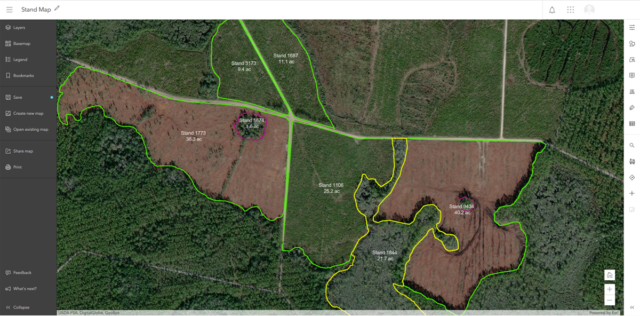 Web GIS for Forestry Editions to fit Operations of all Sizes:
Lite: Just the basics in the ArcGIS Platform with web layers, maps, and basic mult-user relational data model.
Essentials: Robust multi-user relational database with backups, update automation, mobile and web apps and custom reporting (PowerBI or Excel).
Essentials Plus:  Essentials plus integration to legacy other systems, advanced user database access, timber depletion and enhanced security.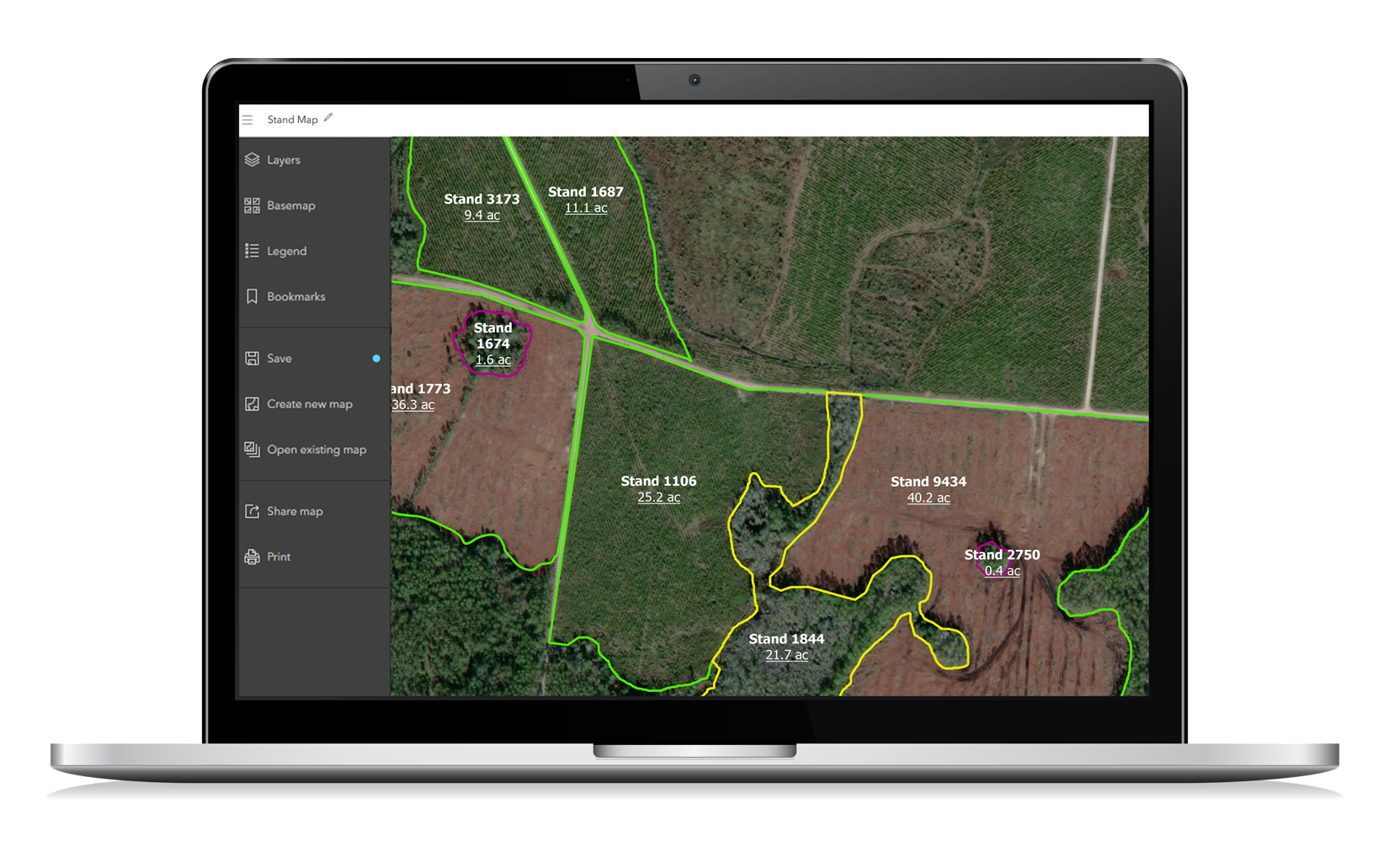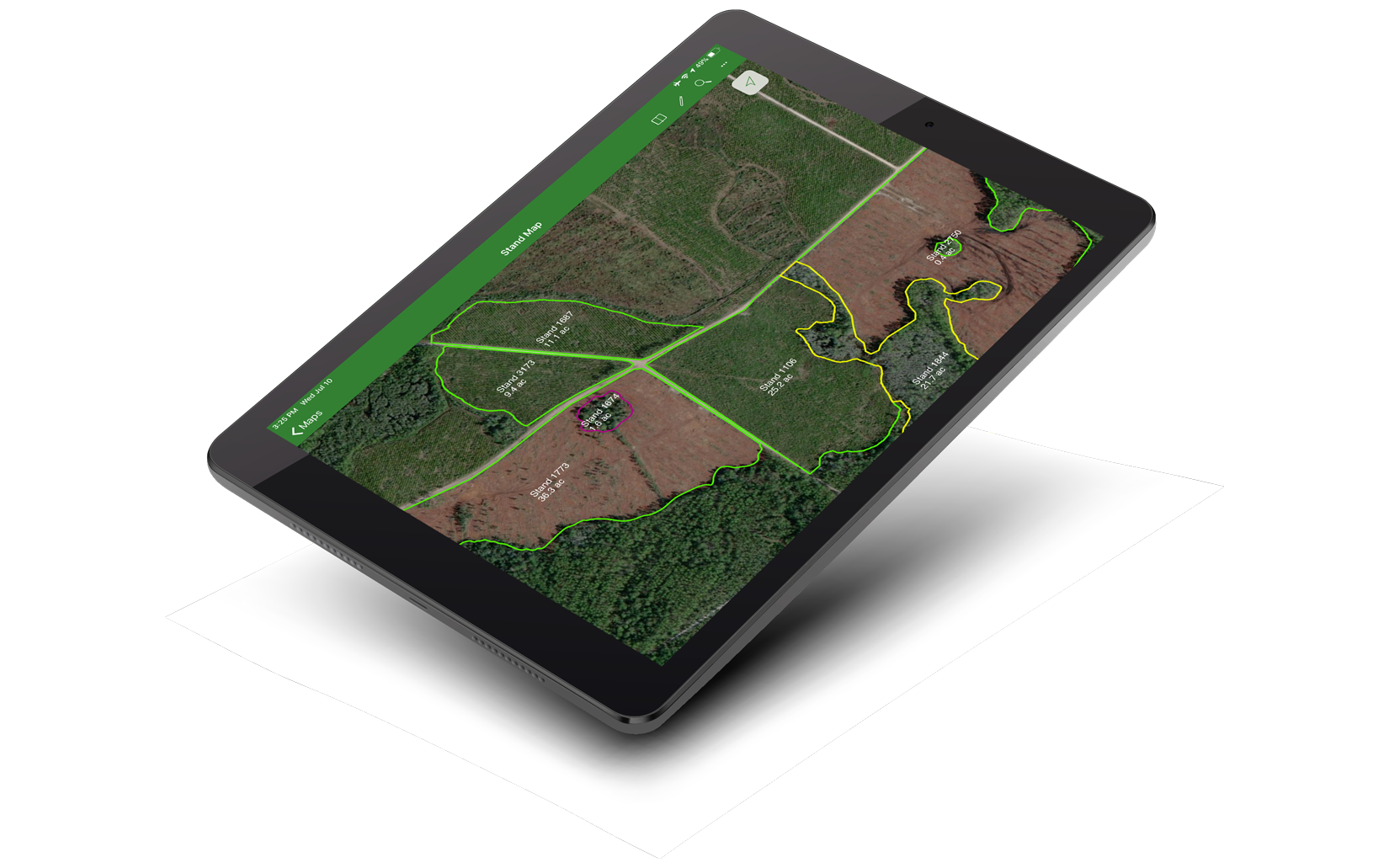 Web GIS for Forestry Data Sheet
Overview of what's included with the Web GIS for Forestry:
Short video of Planet Labs Imagery for harvest monitoring and fast mobile access:
Short video of Planet Labs Imagery in ArcGIS Pro using tracts in the Web GIS for Forestry: