Maps and treatment history for forest assets are essential to everyday forestry operations.  Knowing stand history and what's working (or not) and why is vital to every forestry operation.
What if everyone on your team was looking at the same tract, inventory and treatment information wherever they were working?
Would it save time if everyone could ask questions and get answers based on the same information?
Would improved access to forest information reduce unnecessary trips to the field?
What if your forest technologies and data didn't rely on computers in your physical offices so they could be accessed from anywhere?
Our Web GIS for Forestry offering provides forestry and natural resources businesses value quick and over the long term by:
A single version of the truth for forest assets, for everyone, every device and in real time.
Field tools which function together with back-end business systems for real-time reporting and visibility across an operations.
Allowing teams to access maps and data on stands, tracts, treatment history, inventory and maps of current timber sales on any device, wherever work is being done.
Tools that are always up to date and continuously enhanced to provide value over the long term.
Built on top of existing Esri technology and data formats already used in forestry.
Advanced capabilities with no infrastructure (like servers) to buy or manage.
Configured to your needs, data and organization size – there is no one-size-fits-all, with both lite and advanced options.
A path to using forestry tools such as Planet Labs imagery, OpTracker or Prism for forest inventory.
See below to view pictures and videos of whats possible with The Web GIS for Forestry offering: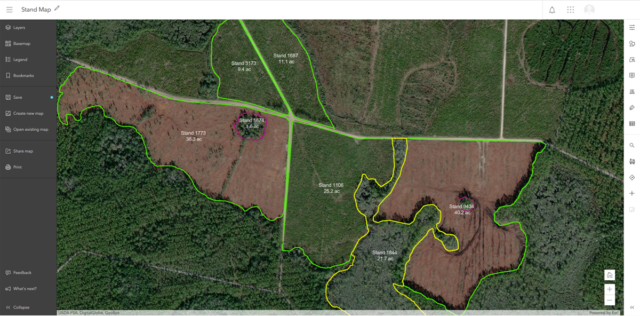 Above: a browser application with search and integration with legacy land system data for soils, operability and treatments.
A common operational view of forest assets across any device – in a web browser on left, and ArcGIS Explorer on a tablet on right. 
Web GIS for Forestry one-pager
Overview of what's included with the Web GIS for Forestry:
Short video of Planet Labs Imagery for harvest monitoring and fast mobile access:
Short video of Planet Labs Imagery in ArcGIS Pro using tract data from the Web GIS for Forestry offering: