The Web GIS for Forestry Solution Helps Meet Today's Information Demands Through a Single Version of the Truth for Forest Assets.
Forestry Organizations Face Common Challenges
Disparate vendor technologies don't function together as one, making it complicated to get answers and to automate.
Low tech adoption because tools are complicated and difficult to use.
Tending to complex finicky systems, data and files comes at the expense of other important work.
Organizations are maintaining physical servers which are difficult to secure and more expensive than commercial cloud servers.
Organizations are amassing technologies which don't share common architectural patterns leaving value on the table while creating risks.
The Digital Age is Here, are Your Operations Prepared?
Is your technology following a roadmap for long term success?
Is there a need for new tools and quick answers but you're not sure where to start?
Are staff experiencing increasing demand for information?
Is it taking too long to create vital analysis and reports for assets?
Do you feel like important work is slipping through the cracks?
Does your organization have technical staff near retirement without a succession plan in place?
If You Don't Know Where to Start, that's Ok, Reach out and Let's Talk!
What is the Web GIS for Forestry?
A low code forest asset management solution enabling organizations to map, report and analyze expenses, revenue, plans, cutting activity and inventory in real time and from anywhere forestry work is being done.
A digital twin of forest assets provides a Single Version of the Truth accessible by everyone, in real time, anywhere.
It allows organizations to better function digitally, to automate, using modern Cloud Native tools like one sees on smart devices and the web.
A set of tools which reduces complexity and automates for consistent, reliable answers to daily operational questions.
A set of tools and reporting which support sustainability monitoring.
Seeks to reduce in house resource needs for infrastructure and tech which are outside the core business of forestry.
Leverages existing Esri license resources and Esri software familiarity.
Typically paired with solutions such as Planet Labs imagery, Op Tracker and Prism.
Reliable, Up To Date Information is More Essential than Ever
What if everyone on your team was looking at the same tracts, stands inventory and treatments wherever they were working?
Would it save time if your team had real time, consistent answers to operational questions from any device and anywhere?
Does real time, anywhere access to what happened on a stand make a difference in the speed and accuracy of decisions?
Do want confidence that the information you're making decisions with is up to date and relevant?
How Our Users

Deliver Results
Project harvest volumes to estimate revenue and do logistics and contract planning faster and with greater repeatability.
See real time standing inventory through automated depletion from settlements or scale system as harvests removals occur.
Harvest and silviculture plans from candidates to budgeting to execution on the ground – in real time for all roles involved in each process.
Automated map production simplifies and shortens creation of maps for contracts, cutting releases any treatment.
Managers see the same information in the office as foresters see on maps as field techs see on their phones and tablets.
Dramatic reduction in the steps to get answers anywhere data is involved, from collecting data to monitor harvests and updating silvicultural records.
A Single Version of the Truth for Assets is transformative: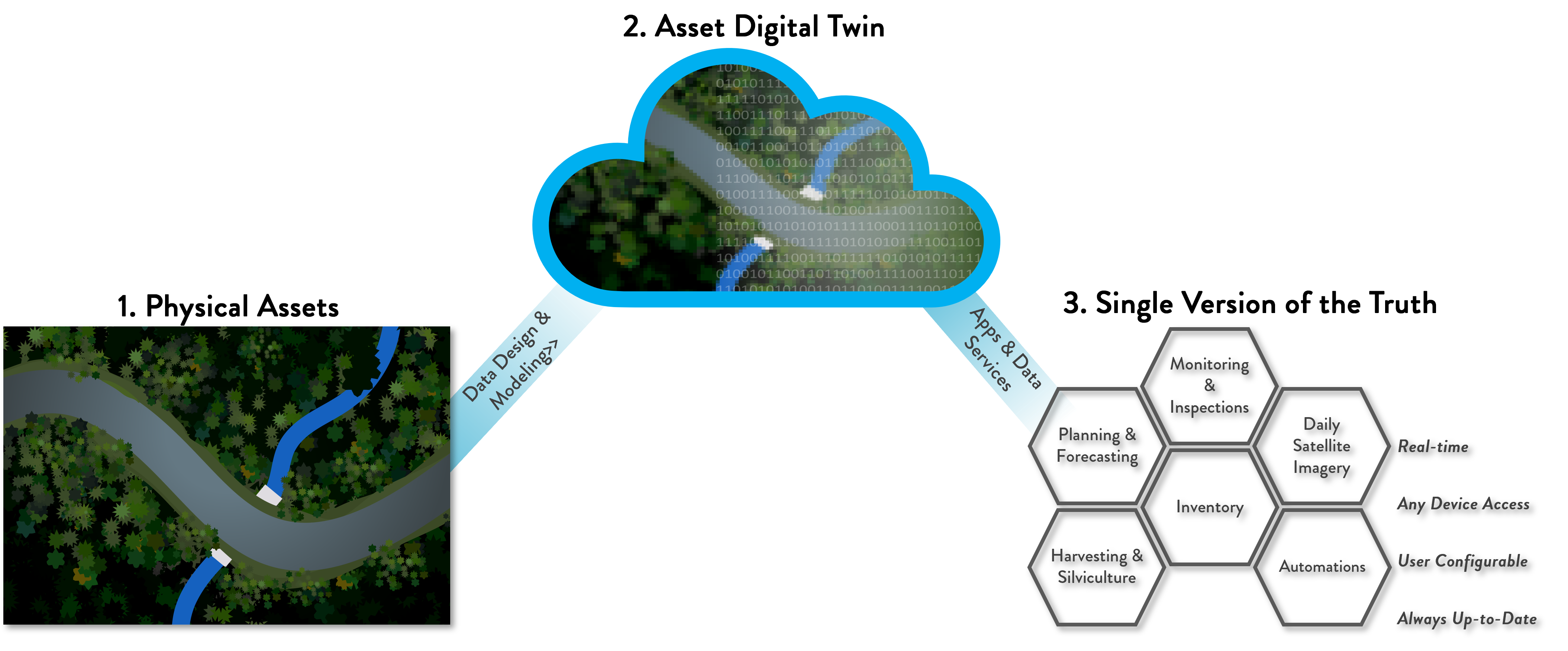 Editions to fit Operations of all Sizes:
Lite: Just the basics in the ArcGIS Platform with web layers, maps, and basic mult-user relational data model.
Essentials: Robust multi-user relational database with backups, update automation, mobile and web apps and standard reporting (PowerBI or Excel).
Essentials Plus:  Essentials plus integration to legacy other systems, advanced user database access, timber depletion and enhanced security and PowerBI reporting.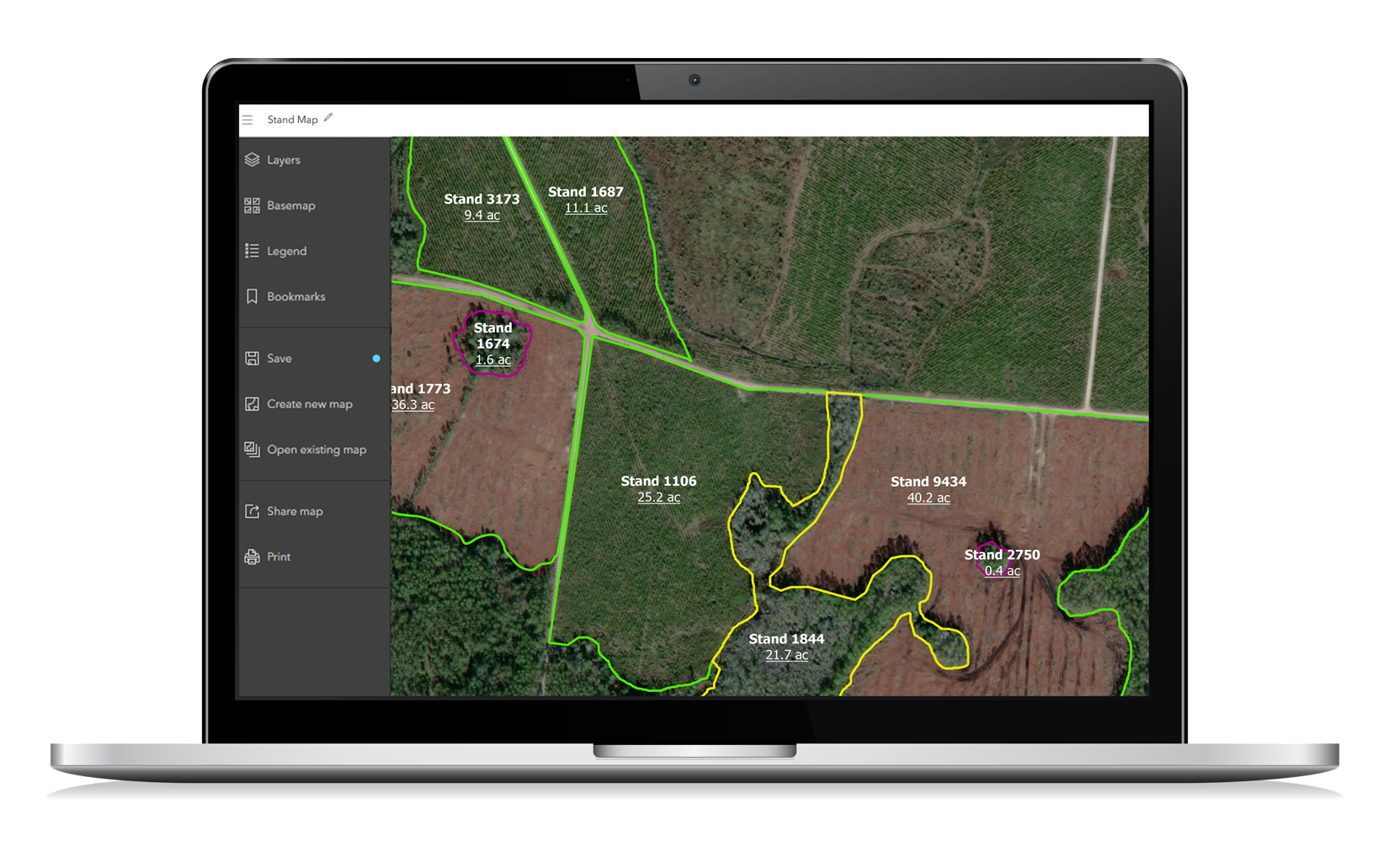 Web GIS for Forestry Data Sheet
Overview of what's included:
Short video of Planet Labs Imagery for harvest monitoring and fast mobile access:
Short video of Planet Labs Imagery in ArcGIS Pro using tracts in the Web GIS for Forestry: