Maybe it's time to step up your game by putting those years of data investments to work in new ways, or maybe you're starting from scratch. Wherever you are today, we can provide a roadmap and solution fit that's right for your team and budget.
Digital records for forest assets are essential to everyday forestry operations. Spreadsheets are digital and store data, but time and again they fall short of supporting daily operational needs.
What if everyone on your team accessed the same tract's inventory numbers and treatment information wherever they were working?
Could you save time if everyone could discover answers to every day questions on their own?
Would improved access to forest information allow questions to be answered more consistently and quicker?
What if your forest technology and data functioned without reliance on computers in your physical offices work could be done from anywhere?
Going digital doesn't have to be hard!
Change can be difficult, but not changing to adapt to shifting client and employee needs can become increasingly difficult to undo as time passes and the gap widens. There's little disagreement that the future of business will be more digital; operating at scale, automating and shortening the time it takes to get things done makes digital strategy an imperative. Rather than trying to do more with less, why not do "more with better" through tools which simplify and broaden the access of information assets.
The Web GIS for Forestry offering provides forestry and natural resources businesses value quick and over the long term by:
Given a single version of the truth for forest assets, for everyone, every device and in real time.
Enabling field tools which function together with back-end business systems for real-time reporting and search across operations.
Allowing teams to access maps and data on stands, tracts, treatment history, inventory and maps of current timber sales on any device, wherever work is being done.
Tools that are always up to date and continuously enhanced to provide value over the long term.
Built on top of existing Esri technology and data formats you're already using.
Advanced capabilities with no infrastructure (like servers) to buy or manage.
Configured to your needs, data and organization size – there is no one-size-fits-all, with both lite and advanced options.
A path to using forestry tools such as Planet Labs imagery, Op Tracker or Prism for forest inventory.
See below to view pictures and videos of what's possible with The Web GIS for Forestry offering: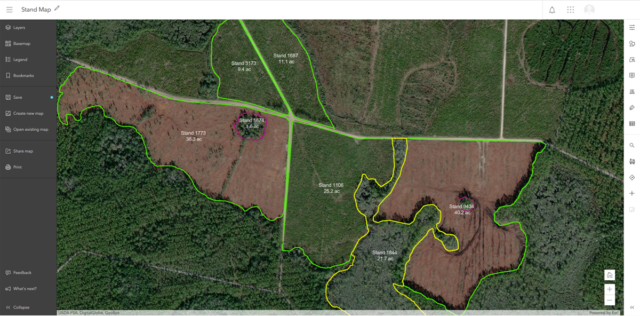 Above: a browser application with search and integration with legacy land system data for soils, operability and treatments.
A common operational view of forest assets across any device – in a web browser on left, and ArcGIS Explorer on a tablet on right. 
Web GIS for Forestry Printable Flyer
Frequently Asked Questions.
Are there different versions of this solution? Yes, there are at least three typical setups from lite to advanced depending on your business.
Doesn't ArcGIS Online function as a replacement for ArcGIS Server (Enterprise)? No, while ArcGIS Online can work with or without ArcGIS Server, there are many important limitations one can run into with data which is hosted in ArcGIS Online only – such as the inability to use SQL Server or Excel features directly against tabular and spatial data.
What's included in the Web GIS for Forestry? It is a fully managed services solution which includes the cloud infrastructure such as the servers, software and coresponding IT support.
What do I need to get started? A couple ArcGIS Desktop licenses on maintenance, smart devices and decent internet.
What if we have data related to stands and tracts, can they be used in this solution? Yes, most of our customers have robust relational databases in place with specifics for treatments and inventory which are different for each type of business and operational needs.
Can my data from inventory and other sources be integrated? Yes, it's common for our Web GIS for Forestry users to also use Prism which sits on the same architecture such that all forestry asset information is one place and easily integrated.
Overview of what's included with the Web GIS for Forestry:
Short video of Planet Labs Imagery for harvest monitoring and fast mobile access:
Short video of Planet Labs Imagery in ArcGIS Pro using tract data from the Web GIS for Forestry offering: